Client Need
We're Still Open Hudson Valley (www.werestillopenhv.com) is a new resource for local brick and mortar businesses to let the community know that they are "still open" and to share what modifications they have made to stay open through the COVID-19 (coronavirus) pandemic. Essential businesses can get listed on the website by simply filling out the simple online form. Visitors to the site can search by keyword, town, or county for restaurants, farms, coffee shops, bakeries, boutiques, retail businesses and find what those businesses are offering, links to their social media and websites, and business hours.
It's so difficult to find who's still open during the pandemic. You may have seen several business groups popping up on Facebook since the COVID-19 crisis. They are difficult to navigate and not all businesses receive equal representation. In addition to that, those social media listings are not serving the whole community because not everyone is on Facebook. Our website is easily searchable and free for Hudson Valley 'essential' and brick and mortar businesses who changed their business model to allow for online services, delivery, or curbside pick-up.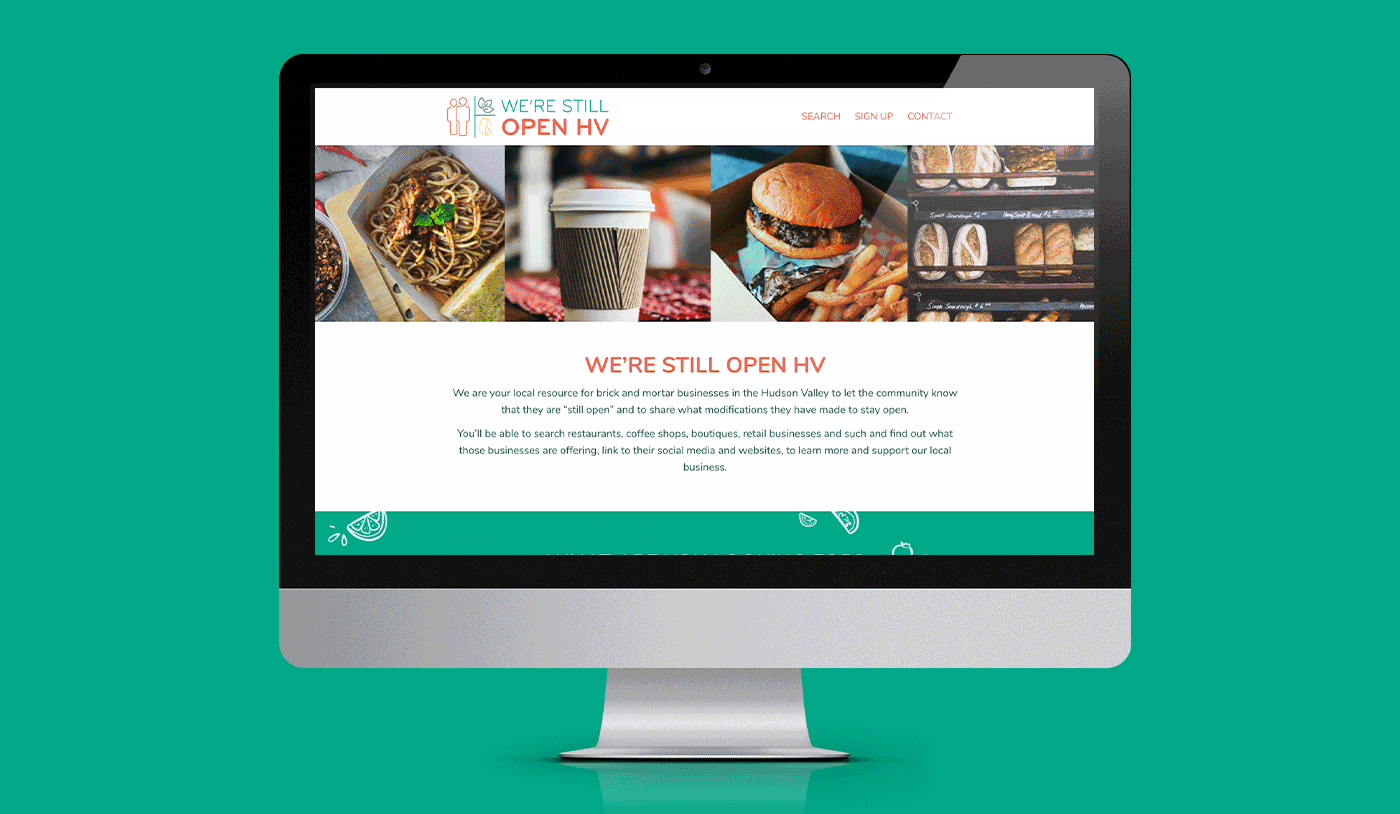 Gilday Creative Plan
The website was designed by Gilday Creative, Inc. and developed by  JTS Design, Inc. Haynes Marketing + Media has teamed up to help promote this free service to our communities. We're Still Open Hudson Valley launched on March 27th and as of April 16 already has over 500 businesses covering nine Hudson Valley counties and is still growing!
The Result
Jeff Severson, owner of JTS Design, Inc., said "As a web developer, I tend to view websites and information from a user experience perspective. In the first weeks of March, as the COVID-19 crisis began to escalate in New York, I began seeing numerous restaurants that I follow on Facebook posting that they were still open and changing the way they do business to accommodate the need for social distancing. I then began seeing various Facebook groups being created to list which businesses were open and what changes they had made. That was followed by a number of Excel and Google documents that began circulating for the same reason. As a user, I felt that it was information overload and it was simply confusing to find information. That is what inspired my idea to create a website that would be an information hub for Hudson Valley businesses to list that they were still open and added new accommodations during the pandemic while also giving consumers the ability to easily search and find those businesses."
When asked about the collaboration, Sheila Gilday, Creative Director of Gilday Creative, Inc., said, "Now is the time for small businesses to come together and help one another. When Jeff from JTS Design, Inc. mentioned his idea to me, I thought it would be a great resource for the community to have one place to go to find out who's open and how they offer their services during these difficult times. We all live, work, and volunteer in the Hudson Valley and if this is a way that we can use our talents to help others through this time, it was a no brainer for us."
Kati Haynes, Founder of Haynes Marketing + Media, said, "We felt that it was important for us to work together and spend our time and energy toward doing something for the greater good. None of us can sew masks, work in a hospital, or deliver food to those who need it so we created this website. We are putting an immense number of hours into this project, while trying to maintain our own small businesses."
You can also find We're Still Open Hudson Valley on Facebook and Instagram.