Client Need
The Chamber Foundation, Inc. was established to promote education and training programs for area youth and professionals with the goal of enhancing the future of economic growth in the Hudson Valley region. They needed a  website redesign to promote their programs, scholarships, upcoming events, and their community outreach. The site also needed to be modern, mobile responsive, capable to have forms submitted online, and ADA compliant.
Gilday Creative Plan
First, we assessed the website's site map and navigation and simplified it to make the user experience easier and more intuitive. Then, we discussed the Chamber Foundation's preferences for the website redesign color palette and gave several options to choose from. It was decided to reflect the Chamber Foundation's logo with orange and blue. From there we gave them several designs and was able to narrow them down to one. We then built the website on a WordPress platform that was coded to be mobile responsive and ADA compliant.
Further, we needed to promote the chambers Donate button on each page and have a call to action to volunteer on the bottom of the page. In addition, some forms were converted into Gravity Forms allowing user to submit them online, but also allow the Chamber Foundation to track submissions and convert data into Microsoft Excel for statistical analysis.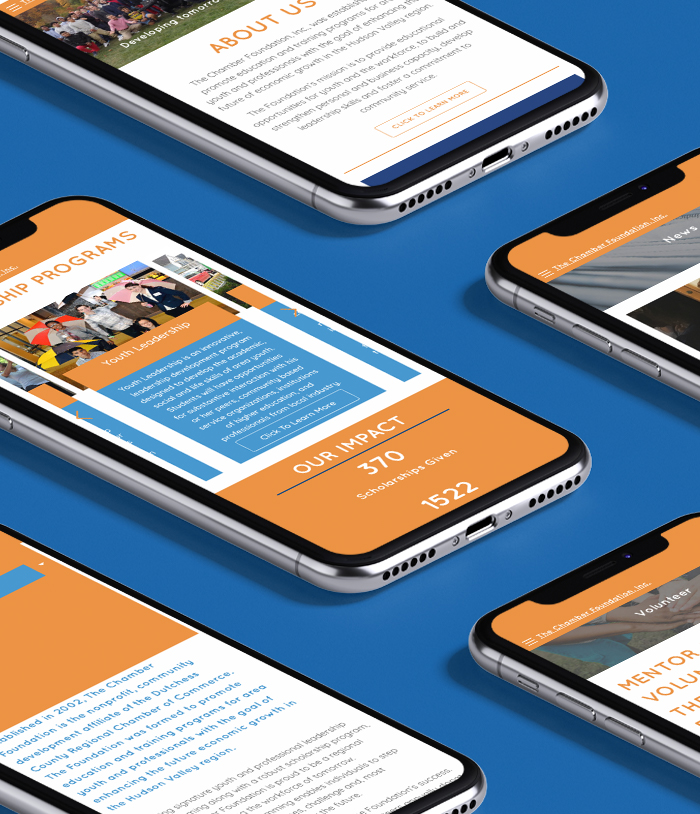 The Results
The Chamber Foundation website has a modern touch, while maintaining consistent branding by utilizing key elements from their logo. The website's navigation was streamlined to remove redundant pathways throughout the site.  The website is also mobile responsive and is ADA compliant where hyperlinks are clearly defined, images have alt tags, certain forms were converted to pdf's from Microsoft Word, and the text has sufficient contrast from the background. Also, other forms, when needed, were converted to Gravity Forms allowing users to fill them out electronically and submitting them online through the site. And finally, the Donate button was placed prominently about the top navigation on all pages along with a call to action rotating banner at the bottom of each page.